KYS Chiropractic Office
About us
Welcome to KYS Chiropractic Office. We hope you will find some idea to improve your health and to keep it best. KYS Chiropractic Office was established in 2007 in Kiyosumishirakawa, Koto-ku, Tokyo. Dr. Igarashi is a graduate of National College of Chiropractic in Chicago, USA. He has over 25 years of clinical experience in chiropractic. He also has been involved in chiropractic education for a long time at professional college. We provide you a sophisticated chiropractic care for optimal health in your daily life. It is our goal that our chiropractic care ensures that all patients get their own optimal health by relieving pain and suffering as soon as possible, being able to move their bodies as they wish and maintaining a high quality of life.
10 Signs You Should See a Chiropractor
Chiropractic care was originally aimed at promoting autoimmune function and enhancing ability of healing itself,
but is now effective for many health problems. Followings are 10 signs that patients often complain in our clinic.
Joint and muscle pain in anywhere your body
Headache, Dizziness or Vertigo
Acute or Chronic Low Back and Neck Pain
Limited Range of Motion
(any parts of your body including jaw)
Sharp, Shooting Pain in Your Arms or Legs
Neurological Dysfunction
(e.g. visual or hearing difficulty, instability, movement disability etc.)
Visceral Dysfunction
(e.g. indigestion, hormonal imbalance etc.)
Postural Imbalance
Want to Improve your performance
(especially for athlete)
Want to Live a More Health-Conscious Life
Profile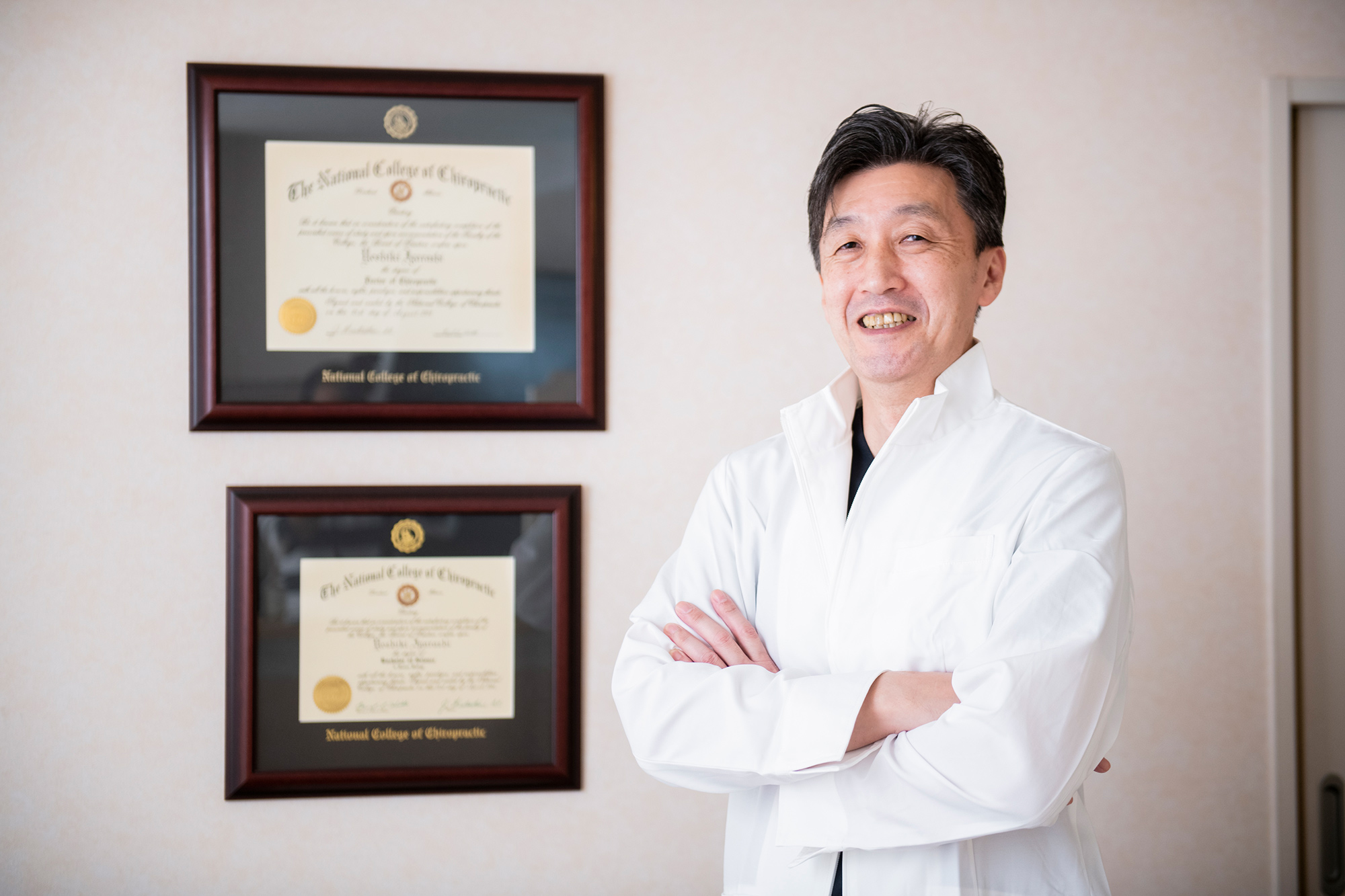 Doctor of Chiropractic - U.S.A.
Registered chiropractor in Japan Chiropractic Registers (JCR)
Registered chiropractor in Chiropractic Board of Australia, AHPRA
Certified Applied Kinesiologist - U.S.A.
Certified Graston Technique Provider- U.S.A.
Judo Therapist – JAPAN
Specialized Judo Therapist Teacher
Experience
●Director of KYS Chiropractic Office - Present
●Technical Manager of KIZU Chiropractic - Present
●RMIT University Chiropractic Unit Japan (Lecture) 1996 - 2009
●Murdoch University International Study Japan (Lecture) 2009 - 2010
●Yomano Medical College (Lecture) 2011 - 2020
Open Hour
Mon

10am - 4pm
Tue

10am – 9pm
Wed

10am - 4pm
Thu

10am – 7pm
Fri

10am – 9pm
Sat

10am – 7pm
Sun

*10am – 7pm
*Office is closed on the 1st, 3rd and 5th Sunday each month and notional holiday.
Fee
Adult:
First visit consultation & Treatment

¥9,300
General Treatment

¥6,600
Under 18 years:
First visit consultation & Treatment

¥7,700
General Treatment

¥5,000
*Payment is cash only.
Access
Mansion New Kiyosumi 1011, 1-7-18 Shirakawa, Koto-ku, TOKYO, 135-0021 JAPAN
●1 minute on foot from A2 Exit of Kiyosumishirakawa Station (Oedo line & Hanzomon line)
●7 minutes on foot from A6 Exit of Morishita Station (oedo line & Toei Shinjuku line)
Appointment
Tel:

03-5926-3345
E-mail: